Thanksgiving Week – No Rotary Meeting
Reminder that there will NOT be a Rotary meeting on November 22.
Rotarians are business and professional leaders who take an active role in their communities while greatly enriching their personal and professional lives.
Are you up for the challenge?

President Trip is challenging  the club to donate at least 80 units of blood during the week before Thanksgiving – November 12 – 19.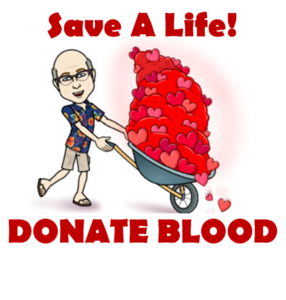 1. Donate Blood – CLICK HERE for Donation Stations
Each donation location will have a Rotary sign up sheet. Make sure you and your friends/family sign in under Rotary to help us meet the challenge.
2. Invite Your Friends, Family and Colleagues to Join You
3. Spread the Word about Blood Donation by TAKING A SELFLESS
Post your donation and encourage others to do the same!
TAKEING a SELFLESS – The act of taking a picture of yourself giving back to the community in order to promote service. e.g. donating blood in honor of the victims of Sutherland Springs.
Share with:
@RotaryClubSA
#RotarySelfless
#RotaryBloodDrive
@ConnectForLife
Kingdom for Kids XVIII
This year's Kingdom for Kids will be at the Advanced Learning Academy located at 621 W. Euclid, SATX 78212.
Build Dates:
Friday, December 1, 2017
Saturday, December 2, 2017
To volunteer, CLICK HERE.
To make a Donation, CLICK HERE.
Learn more about Kingdom for Kids and how we are making a difference in the lives of children throughout San Antonio.  CLICK HERE!
VOLUNTEERS – Log your hours here!
Have you volunteered at a Rotary Event?  Your hours count toward our Club Goal of 2,500 Service Hours.  Take a moment to log your hours.
VOLUNTEER HOURS (NON-Snack Pak) – CLICK HERE
SNACK PAK 4 KIDS HOURS – CLICK HERE
VOLUNTEER OPPORTUNITY!  
Rotary will again be delivering Snack Paks 4 Kids to Dorie Miller elementary located at 207 Lincolnshire Dr, San Antonio, TX 78220.  (Click here for a map)
To check out the different Volunteer Opportunities, CLICK HERE!